Course details
Winter gutsuri 【meatbase plate】 2 hours all you can drink All 8 items 4500 yen → 4000 yen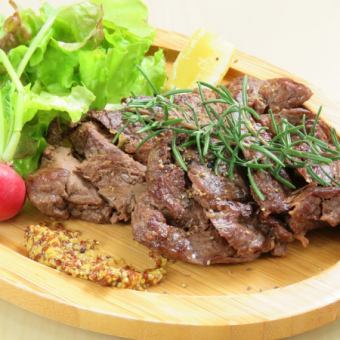 By using a coupon4000 yen
All-you-can-drink available

All-you-can-drink for 2 hours
Available days for reservation

Monday - Sunday - Public holidays - Holidays
I'm putting 5 types of meat dishes on Dodon and the plate ☆ I am excited and surely will be full of stomach!
Course menu
● Bruschetta (mushroom butter or mentaiko cream cheese)
● Edamame peperoncino
● Roasted nut creamy salad
● Yamamori Fried Potato Salt Kelp Taste
● Main "Meat Plate" ~ roast of duck, smoked, sausage, fried eggs, etc. ~
● Carpaccio (salmon or bonito)
● Stirred cheese risotto or pasta with thick cheese sauce
● Dessert (waffle or ice)
* There are changes according to purchase situation and hope.
★ Forgotten annual party, welcome reception party, social gathering, birthday party, anniversary, at the wedding party second party
How about changing the desert desert to the dessert plate? (* 'Ω *)
There is no doubt that the leading role will be pleased! The first piece is free, and the second piece and later are + 500 yen.
It is also possible to stream your handmade movies with a large projector!
We will cooperate in memorable banquets!
All-you-can-drink menu
·beer
· Shizuoka Born
·whisky
· Dewars (Rock / Water split / High Ball / Cork High / Ginger High Ball)
· Shochu
· 【Wheat】 Waraba / 【Potato】 Pickled potato / 【Potato】 Dusk of Shiratama (rock · water split · soda)
· Sour · Chu-Hai
· Mei Mei Sour / Punch Lemon Sour / Grapefruit Sour / Peach Sour / Gianton Sour / Sankani Mandarin Sour / Calpis Sour / Mango Sour / Oolong Tea / Green Tea Split
·wine
· Red wine / white wine
·sparkling wine
· Paul star (somewhat dry)
·sangria
· Red Wine & Orange / White Wine & Grapefruit / Via Sangria / Peach Sangria / Cassis Sangria
·Plum wine
· Plum wine made in Shirakaga (rock / soda split / water split)
·Cocktail
· Cassis soda / cassis oolong / cassis orange / bacardi mohito / giant peak mojito / gin tonic / jin back / ginfizz / gin ricky / peach fizz / fuzzy group / peach oolong / kalua milk / moscommeure / screwdriver / vodka tonic / rum coke / lamb orange / lamb tonic
·Non-alcoholic cocktails
· Cassis soda / cassis oolong / cassis orange / fuzzy navel / peach oolong / Peach fizz / mango soda / mango orange
·Soft drink
· Oolong tea / Orange juice / Orange squash / Cola / Calpis / Calpis soda / Ginger ale / Ice tea
2018/12/13 update